• "I'm going to be wearing waterproof mascara."
–
Teri Hatcher,
on how she's preparing for her interview with Barbara Walters, airing Oscar night (Feb. 27)
• "It's a lifetime achievement award, which is completely and utterly surreal, given I'm only 30 years old."
– Oscar nominee and former child star
Leonardo DiCaprio,
upon accepting his honor at the Santa Barbara International Film Festival
• "I love my community and I have great faith in our justice system. Please keep an open mind and let me have my day in court. I deserve a fair trial like every other American citizen."
–
Michael Jackson,
in a court-approved statement to the press
• "I could never do an impression of Liza – there are so many men in this town who could do a better job than me."
– Actress
Jane Krakowski,
who is scheduled to play Liza Minnelli in a biopic of the designer Halston
• "I'm pleased as punch."
–
Clint Eastwood,
upon winning the Directors Guild Award for
Million Dollar Baby
• "They would get me to do naughty things and I miss that."
–
Emma "Baby Spice" Bunton,
recalling her days as one of the Spice Girls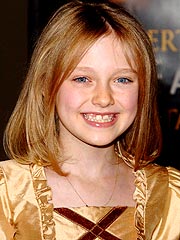 • "When I was a kid, I used to dance around the house and sing songs like, 'Nobody is going to rain on my parade.' And today is a sunshiny day!"
–
All My Children'
s
Susan Lucci
(a.k.a. Erica Kane), after receiving a star on the Hollywood Walk of Fame. It stopped raining just long enough for the soap star's ceremony
• "I can't imagine how much I've grown."
–
Hide & Seek
star
Dakota Fanning,
10, reflecting on her career, which she started at age 6
• "Just let me digest it, and then we talk about dresses."
– First-time Best Actress nominee
Catalina Sandino Moreno
(
Maria Full of Grace
), on answering the important Oscar question: What will she wear?
• "Michael Moore announced his latest project: A film looking at voter fraud at the Oscars."
–
Jay Leno,
on the controversial film director's lack of an Academy Award nod