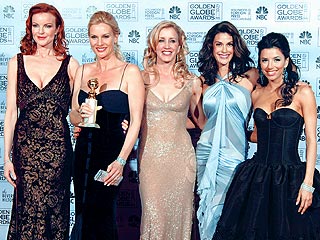 WATSON / CAMERA PRESS / RETNA
How does it feel to get a
second burst
of fame? Hatcher is happy, grateful – and careful. "There's just no room to not get along," she says, dismissing reports of on-set feuding and noting that, apart from 29-year-old Eva Longoria, her fellow actresses on the show – Marcia Cross, Felicity Huffman and Nicollette Sheridan – are all 40 or over. "For those of us who have been in this business for 150 years, you get it – you've won the lottery." She's both seasoned mentor and mother to Andrea Bowen, 14, who plays Susan's daughter and confidante Julie. "Ever since we started, Teri has always said, 'if you ever have any problems, you come to me. I'm here for you,' " Bowen says. "And she'll always say, 'Are you okay? Do you need any food?' It's nice to have someone on set looking after me."
The thing is, Hatcher may have curled up in a ball and cried, but she has a determination that often prevails. "If you ask where I get my strength – I don't meditate, I don't go to therapy," she says. "I'm kind of a boot-strapper person." That attitude should get her past the annual divorcees' hurdle, Valentine's Day. "I don't have a valentine," says the actress, who made headlines recently when she told
FHM
magazine, "It's been so long since I've had any sex that I don't remember." For last year's Feb. 14, she, a pal and her daughter just went out to dinner at a local restaurant. "My girlfriend and I gave each other lottery tickets and G-strings, and my daughter got a Valentine's Day Barbie, which she gets every year. So this year, my girlfriend has a boyfriend. Hopefully, instead of me,
he'll
be giving her a G-string."