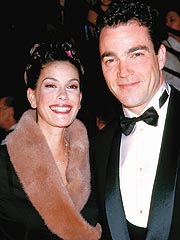 She met Tenney on a blind date during
Lois & Clark'
s four-year run. By the time the series was canceled, she didn't care: She and Tenney had wed and were expecting Emerson. "I wanted to be a mom," she says, and she didn't mind telescoping her career to lucrative bit parts, including a Bond girl in 1997's
Tomorrow Never Dies.
Then Radio Shack offered her "this exorbitant amount of money . . . millions" to do TV commercials with former NFL star Howie Long. "A number of people came up to me," says Long, "and told me they loved those commercials with my wife. I said, 'Oh
no.
' "
Meanwhile, the real marriage died. "I'll never expose the reasons for the depths of sadness from my marriage," says Hatcher, whose previous marriage, to a physical trainer, lasted less than a year in the late 1980s. She adds, however, that she had assumed it was more important to provide Emerson with two parents than to worry about her own fulfillment. "People told me, 'Honey, you have to be happy first,
then
you could be a good mom.' I said, 'Screw that. My daughter shouldn't be responsible for my failures. We're just going to work it out.' " When that proved impossible and she filed for divorce in 2003, it was still crucial to protect Emerson, whose parents today share joint custody (Tenney lives a few minutes away). "You can only have your meltdowns when your children are asleep," Hatcher says. "I don't have meltdowns in front of Emerson."