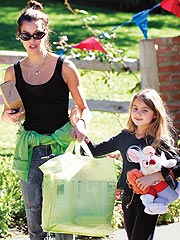 As for relationships now, she vows to avoid meltdowns altogether. "The second a red flag comes up [with a date] I'm probably going to go, Nope, I don't have time to go wrong with somebody. I don't have the energy to put up with drama and crap."
After the divorce, she had to tunnel back into work. Movies? Dubious. "I wasn't on the hot list, and age-wise, I
really
wasn't on the hot list." (As to the breasts that were so real and spectacular on
Seinfeld,
"by now," she jokes, "they're just real.") But she managed to sell a pilot script to ABC about a single mom. "I, me, stupid little Teri Hatcher, sold a pilot." Then, better still, she got hold of the script for
Housewives
and experienced a click of recognition with Susan Mayer. "I had to test, audition, the whole rigmarole. But I have to admit I had one of the greatest auditions I ever had. I kind of left the building knowing I had this."
The dramatic possibilities for Susan Mayer, on the other hand, remain wide open, although Hatcher and Marc Cherry have ruled out certain dire developments for the character – no alcoholism; no skin cutting. For the most part, says Hatcher, "I'm happy to fall out of as many bushes and trees as they like." One other activity is developing a skin-care line. "It's about releasing your inner beauty," she says. "It's about not covering up and trying to change." But the 5'6'', svelte actress is quick to discount unmeetable Hollywood beauty standards. "Let me just say that every cover of every magazine I've done has been airbrushed to death," she says. "No woman in America should walk around thinking that's what they should be. You shouldn't be beating yourself up."