• "I think my dogs are so much cuter than Tinkerbell (ruff! ruff!)."
•
Britney Spears,
calling out Paris Hilton's beloved Chihuahua, in a letter to fans
• "Who's going to watch us when they can watch a hot, shirtless guy build a skate ramp for a kid with no bones?"
–
Arrested Development'
s
Jason Bateman,
musing on his FOX show's ratings competition, ABC's
Extreme Makeover Home Edition,
on
Saturday Night Live
• "Everybody wanted to know what I would do if I didn't win. I guess we'll never know."
–
Kanye West,
upon winning a Grammy for best rap album (
The College Dropout
)
• "This is the trippiest thing I've ever gone through in my life."
– Maroon 5 lead singer
Adam Levine,
accepting his group's best new artist Grammy
• "I'm gonna miss nine years of kissing without tongue."
–
Ray Romano,
on fake-smooching TV wife Patricia Heaton. The last episode of
Everybody Loves Raymond
airs May 16
• "My whole take on fashion is, 'Try not to get made fun of.' "
–
Cursed
star and vintage clothes fan
Christina Ricci
• "(Among) all the brilliance that congregates here at gorgeous Harvard, it's nice to know that there's not one ounce of class."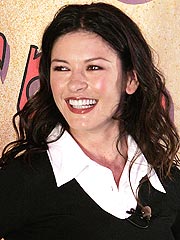 –
Catherine Zeta-Jones,
good-naturedly accepting her Hasty Pudding woman of the year award from the Ivy League school's theatrical organization
• "Fragrance is a necessity on days you don't have time to shower."
–
Sarah Jessica Parker,
on why she's developing her own fragrance
• "I assume this is what comes of being 42 and single."
–
Desperate Housewives
star
Marcia Cross,
denying rumors that she is a lesbian
• "Next week, Ashlee Simpson is launching her tour. When asked about it, Ashlee said, 'Luckily if I'm late, they can always start without me.' "
–
Conan O'Brien