• "You're always counteracting rumors of being the biggest slut in Hollywood. I'm like, I've had two boyfriends in my whole life, and suddenly I'm like 'busy rich girl around town'?"
–
Mischa Barton,
who has been steady with beau Brandon Davis for nearly a year, on the media's interest in her social life
• "She's f---ing proud of me. I could be sitting at home doing nothing. I could be playing f---ing video games. She's more proud of me than anyone has ever, ever, ever been in my lifetime. Ever."
–
Kevin Federline,
on how he knew wife Britney Spears was The One
• "There's no reason for me to try and draw attention to myself. I want to make it on my own merit."
– Actress
April Florio,
denying that she told reporters that she had had a connection with Brad Pitt
• "I cut coupons, love specials and believe in buying things like toilet paper and toothpaste in bulk."
–
Hilary Swank,
on how becoming an Oscar-nominated millionaire has not changed her thrifty habits
• "You can say, 'I don't feel so great about this part of my body today. When we roll over, can you make sure your hand is covering that cellulite?' And you can have her augment things: I've had scenes where I went, 'Can you just lift it up, so I look a little bit more ripened?' "
–
The L Word
's
Jennifer Beals,
on the advantage of doing love scenes with other women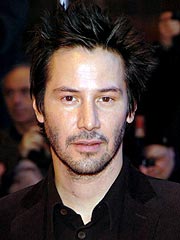 • "I did
Bill & Ted's Excellent Adventure.
They made a cereal out of it, so once you've had a cereal, it doesn't get much more surreal than that. Surreal Cereal."
–
Constantine'
s
Keanu Reeves,
on having his famous image used in odd ways
• "I think my own genre is dead. I don't really think that there is anyone in the modern pop business who I feel I want to spar with."
– '80s music icon
George Michael,
on hanging up his microphone
• "The academy has heard no grumbling from its members and has no intention of even suggesting that Chris step aside."
– Oscars producer
Gil Cates,
saying he's not concerned by first-time host Chris Rock joking that only gay people watch the Academy Awards
• "Everything is wonderful. It was a beautiful night."
–
Kid Rock,
after his arrest on charges of assaulting a DJ at a Nashville strip club