• "I got lazy and complacent like a big fat deer."
–
Fat Actress
star
Kirstie Alley,
on how her weight gain was due to laziness
• "There is no use in being the head flea on a dead dog."
–
Kevin Costner,
on why he took a supporting role in
The Upside of Anger
• "We'll try to get the pattern from her."
–
Martha Stewart,
on the fashionable poncho a fellow inmate made for her as a going-away gift
• "It just sounded much more appealing than creating my own awards show."
–
Alanis Morissette,
on why she's recording an acoustic version of
Jagged Little Pill
in commemoration of the 10th anniversary of her best-selling album's release
• "When I first started doing
The Pacifier,
I was thinking, 'My God, these people have been getting away with murder! I'm practically killing myself in other movies, while they're doing these movies where all they've got to do is laugh and have fun.' "
– Action star
Vin Diesel,
on doing the family-friendly comedy, which opened at No. 1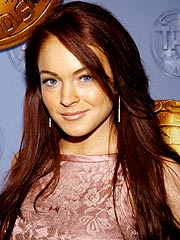 Stephen Lovekin / FilmMagic
• "I don't think he deserves anything. He doesn't even deserve my respect."
–
Lindsay Lohan,
on her father Michael's attempt to gain part of his daughter's earnings
• "It's a big undertaking to move 19 young ladies under one roof, and it sets the tone for some good TV ... having their monthly cycle coming together, and emotions and moodiness and competitiveness."
–
Sean "P. Diddy" Combs,
on his efforts to cast an all-girl band on MTV's
Making the Band 3
• "I am of the
Grease
age. I was 12 years old, or 8 years old, or 7 or 6 – I don't know ... some ridiculously small age when
Grease
came out."
–
Uma Thurman,
on how she first became acquainted with her apparently much older
Be Cool
costar John Travolta