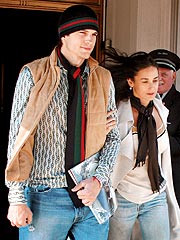 PAUL CUNNINGHAM / ACE PICTURES
But what about Moore? The actress, 42, denied she was pregnant when one close friend asked her directly as the rumors began. Reports that Kutcher revealed the pregnancy to friends over dinner at his new sushi restaurant Geisha are "absolutely untrue," says a source.
While Kutcher told Letterman he "absolutely" wants to have children, for now, he seems happier playing coy than playing dad-to-be. "If she is [pregnant]," he told Letterman, "I gotta go find some guy and kick his ass."