• "I'll keep makin' a livin' with my life and a life with my livin', 'cuz when the J's for 'just' and the K's for 'keep' ... that's livin'."
– Blogger
Matthew McConaughey,
whose "Stream of Consciousness" journal gives a peek inside his head while on the road promoting
Sahara
• "I hate it. I thought it would be fun! I'm not used to having a boss. I'm the boss. I don't need the money. I'm filthy f-ing rich."
–
Kimora Lee Simmons,
on co-hosting the talk show
Life & Style
• "You never know if you're really good or not. Someone might say you are. But then someone might say, 'Hey, you suck.' How can you know who's right?"
–
Sin City
's
Benicio Del Toro,
on whether he thinks of himself as a decent actor
• "I feel like I have got one good foot in there, and we will see if they still want to have me back."
–
Jennifer Aniston,
on transitioning from television to movies
• "My support hose are cutting off my circulation."
– 42-year-old
Demi Moore,
who dressed four decades older to poke fun at her romance with Ashton Kutcher, 27, as he hosted
SNL
• "A pen connects you to the paper. It definitely matters."
–
Be Cool
scribe
Elmore Leonard,
on why he doesn't own a computer
• "This one's a little bit more emotional. We like to describe it as
Titanic
in space. It's a tearjerker."
–
Star Wars
creator
George Lucas,
on the sixth and final installment of his space odyssey,
Revenge of the Sith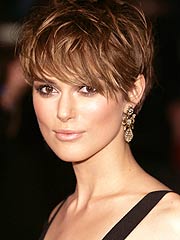 Todd Williamson / FilmMagic
• "I had to use an ass double. They brought in bum doubles and these women stripped in front of me, and there comes a point when you say, 'Those bottoms should be exposed and this one shouldn't be.' "
–
Keira Knightley,
on a nude scene in the biopic
Domino,
in which she plays a model turned bounty hunter
• "He's as nice and as regular a guy as there is, but attention follows him everywhere."
–
Matt Damon,
on the media frenzy that surrounds his
Ocean's Twelve
costar Brad Pitt