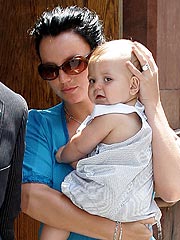 Needed, wanted, exhausted, excited: Yes, Spears is clearly in the inner circle of the mommy zone – a place where stretch marks are a badge of honor, the Wiggles are in constant play, and foot rubs are a must. At eight months pregnant – she says she's due "in a month" – the 24-year-old singer is about to become a mom for the second time – "in one year. And no, this pregnancy wasn't planned. "It just kind of happened," says Spears, who insists she and husband Kevin Federline, 28, don't know the baby's gender. Either way, she says with a laugh, "I'm going to wait a while for the next [one]!"
The timing of baby No. 2's arrival may have been a surprise, but expanding her brood was never a question for the domesticity-craving pop star. Sean Preston "is going to be traveling on the road with me, so I think it will be good to have [a sibling] there with him," says Spears, who has dodged the morning sickness that plagued her the first go-round. As for the prospect of double diaper duty, she is taking it in stride using her mom Lynne's advice: "It's one day at a time."
With her upbeat outlook – childbirth "will be a piece of cake," she says cheerfully of her scheduled C-section, the same as her first – this is a more relaxed, less visibly stressed Britney than the one who broke down in tears during a June interview with Matt Lauer. Of the media scrutiny following that appearance, she says, "They've said some hurtful things, but you just try to ignore it and keep moving on." Now in the home stretch, she is relying on support from her husband ("He's awesome. He rubs my feet. I'm like, 'Rub my damn feet, they hurt!'") and Sean Preston's grandmothers. "It's really good because Kevin's mom is here now, so she's able to help. My mom is home [in Louisiana] but she'll be back next week."