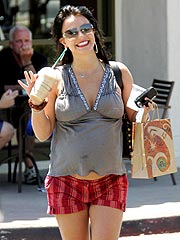 Ginsburg-Spaly / Splash News
Having her family around will be even more important when Spears – whose last original album was 2003's In the Zone – makes her postponed return to the music world with a new album due next year that she describes as "cooler than ever – fun, upbeat and sexy." "I've been going to the studio lately, and we've been trying out different nannies, but it's hard," she says of leaving Sean Preston. "It's personal because this person is with your child every day. I'm so torn right now."
She's far less conflicted about nearing the end of her back-to-back pregnancies. Having been in one trimester or another for nearly 18 months out of the past 21, "I feel like I've been pregnant for 10 years!" she says. The performer who was once renowned for her 3,000-sit-ups-a-week abs can't wait to get back to fighting form. "I'm so excited to really be able to sweat like I used to – now I can't because you're always kind of scared, just kind of protective," she says. As soon as her doctor gives the okay – likely six weeks after her C-section – Spears plans to hit the gym daily and stick to a low-carb diet: "I'm definitely going to start working out in a huge way."