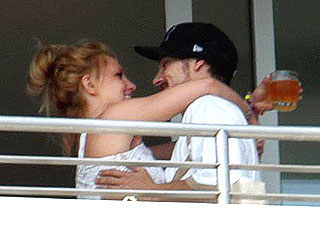 While Spears and Federline won't disclose a wedding date or any details just yet ("I want to keep a few things under wraps," says Spears), they did sit down with PEOPLE senior editor Todd Gold to discuss their relationship, her ring and how all this happened.
Britney:
It was about three weeks ago, and we were on an airplane to New York from Ireland. I'd finished the European part of my tour and I was going home. I was ready to get back to the States. I was really happy. Kevin was with me, so I'd had a lot of fun on the tour.
We were a couple hours into the flight, and we'd been talking the whole time, stuff about life, wanting to have kids, the future, and everything like that. It was an intimate conversation. And we'd always talked about how some people don't have to get married when they're in love.
Kevin:
You can spend the rest of your life with each other if you're in love.
Britney:
Then all of a sudden I said, "What if you want to get married?" And I kind of went from there to asking him if he would marry me. I asked him.
Kevin:
And I said no.
Britney:
He said no because he thought it wasn't the right way to do it.