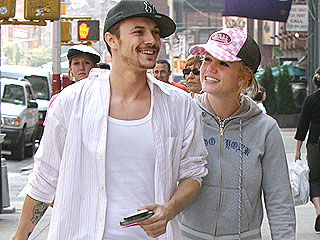 The engagement capped a whirlwind courtship that started in April. Out with some girlfriends during a break from her tour, Britney spotted Kevin at Joseph's, a favorite Hollywood club.
Britney:
I always sit at the same table. On the far right. In the corner. Where I can see everything. And I saw him. He was just standing there. I was like, "Hi, just come with me."
Kevin:
Actually, I'd met Britney before. She just doesn't remember. It was a long time ago, at my first actual dance job. I was dancing with LFO and we were opening for her.
Britney:
We saw each other in passing but never really talked. He thought I was cute.
Kevin:
Yeah, I did think you were cute. But it just wasn't the right time. I think everything happens at the right time. That's why we met at Joseph's.
Britney:
We liked each other right away.
Kevin:
There was something about the whole thing.