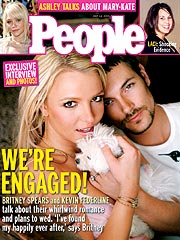 While Spears has met Federline's parents, she has not met Kori, the 2-year-old daughter he has with his ex, actress Shar Jackson, who is pregnant with their second child.
Kevin:
By (the time he met Britney, that relationship) was already done. I love my children more than life itself. If there's anything I want people to understand, it's that: My kids will always be a part of my life.
Britney:
I plan to meet his daughter. I love little ones. I think the situation is good.
What about children of their own?
Britney:
I'm not pregnant. (But) I definitely want to have some kids. I see myself with four or five.
Kevin:
I'm not going to say if it'll be soon.
Britney:
We're starting with a dog. I just got a Maltese named Lacy.
To read the complete interview, pick up this week's issue of
PEOPLE –
on newsstands Friday, July 2.