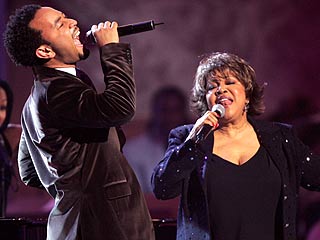 It's interesting that an earlier version of Lifted you shopped to record labels had no takers.
Most of these songs that are on the album were done by early 2003, so I was shopping it for about a year before we had a serious offer. As the momentum built behind what Kanye was doing as an artist and all the guest spots I was getting, it started to look more obvious to record labels that, "Hey, this might be something we should buy into." My theory is that record labels need everything to be obvious for them before they can take that leap.
Meeting Kanye was serendipitous.
We started working together and kept making good songs together and people were liking them. One thing kept leading to another. I was working with him and Jay-Z, working with him and Alicia Keys, working with him and Twista. Then his album came out and I went on tour with him and Usher. All of that got me more and more exposure and more and more seasoning as an artist. His success definitely helped me to break as well.
How did you come up with your stage name?
I didn't just sit in a room and say, "What should I call myself? Legend! That's it!" (laughs) It was a nickname people started calling me. They thought I sounded kind of like the old-school legends that people associate me with, like Stevie Wonder and Marvin Gaye.
You started directing church choirs when you were 10. How did that young kid get taken seriously?
Honestly, I just knew what I was talking about. I understood harmony and I understood different parts that people had to sing. People accepted what I had to say because it made sense and it sounded good all together.
When did you begin playing piano?
It's disputed – my mother says 4, my grandmother says 3. I loved it. I asked to play. In my family, we had pianos everywhere and I just gravitated toward it.
On Lifted's "It Don't Have a Change," you have about 15 members of the family performing with you.
Every Christmas we get together and sing and we love it. There's so many talented people in my family. I always thought it would be a cool idea to have them on the album. One day I was standing in the rain, trying to get a cab in New York and the song came to me.
Here's another potential collaboration: Hilary and Haylie Duff have said they'd love to work with you.
(Laughs) That's cool. – I've seen them in a lot of magazines – I don't know their music that well. Who knows? If we came up with something cool, why not?
You've written about infidelity in your music. Would you describe yourself as a player?
I'm single now, so I'm allowed to be. (Laughs)