• "Literally the whole town is a tabloid. At every restaurant, every hotel, everywhere you go, people are looking at the door to see who walked in. It seems like no one is ever satisfied with their jobs or their lives, everyone is always sort of maneuvering for something else, something better. But the weather is ... beautiful."
–
Sin City
star
Jessica Alba,
on life in Los Angeles
• "Look, I'm sick of Bono and I
AM
Bono."
– U2 frontman
Bono,
on being constantly in the news
• "(I was) completely snowed, blind-sided, stupid, naïve – you name it, I was it ... I was sort of just enamored and pulled in, and when he wants to pull you in, he'll pull you in."
–
Lisa Marie Presley,
on her 1994 marriage to Michael Jackson
• "I like being a soccer mom. I've got the cooler and the cut-up oranges. I'm the one with the healthy snacks."
–
Stacked
actress
Pam Anderson,
on her domestic skills
• "I'm a very up front person, if you will pardon the expression."
–
Dolly Parton,
discussing her personality
• "I'm an old jalopy, losing hubcaps and fenders everywhere."
– 67-year old actress and activist
Jane Fonda,
who will have hip replacement surgery this summer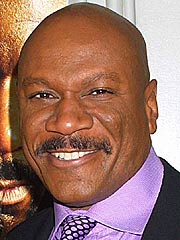 • "
Kojak
wasn't on in my house. I grew up in Harlem one block away from the Apollo Theater, where a version of Kojak's show was happening every day in the neighborhood. There were thugs and criminals and detectives running around. Why would I want to watch a show about that?"
–
Ving Rhames,
television's new
Kojak
• "I'm beginning to wonder if this bad luck is ever going to end."
–
Sharon Osbourne,
after a fire broke out in her English country mansion
• "People Magazine is great in my book!"
–
Britney Spears,
in a message on her Web site