• "I'm not as sweet as you think I am."
–
Katie Holmes,
to
Giant
magazine, before going public with her relationship with Tom Cruise
• "Corey, that was beautiful. You really blew me away. It's like I rolled over and said to you this morning, 'You have real star quality.' I'll see you at home."
–
Saturday Night Live'
s
Amy Poehler,
playing
American Idol
judge Paula Abdul in a sketch mocking Abdul's alleged affair with contestant Corey Clark
• "The latest rumor in Hollywood is that actress Jennifer Garner is pregnant with Ben Affleck's baby. Which means Affleck has finally had a successful release."
–
Conan O'Brien
• "I'm truly sorry for the trouble I've caused, and offer my deep and sincere apology."
– "Runaway Bride"
Jennifer Wilbanks,
in a statement after she faked her own abduction to avoid her wedding
• "I don't read any of it. I just look at the pictures to see what I was wearing last week and if it was cute."
–
Paris Hilton,
on reading her own press
• "I can't stop rubbing my head. It's so soft. I might keep it for a while."
–
Star Wars
actress
Natalie Portman,
who shaved her hair off for a movie role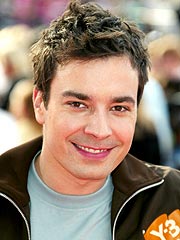 • "I'm kinda bummed because I thought I had a shot at being named Pope ... but this is cool, too."
–
Jimmy Fallon,
on hosting the 2005 MTV Movie Awards on June 4
• "Money and power aren't what life is about."
–
Orlando Bloom,
on keeping his nice-guy status. His movie
Kingdom of Heaven
opened at No. 1 at the box office on Friday.
• "It's hard to put a price on Britney Spears's urine."
– Golden Palace spokesman
Drew Black,
after the online casino paid $5,001 for a home pregnancy test said to be the singer's