• "I don't buy into this whole thing of being 'normal.' There's no such thing as normal."
–
Tom Cruise,
on Australia's
Sixty Minutes
• "Dreams come true, and I'm so in love with him."
–
Katie Holmes,
on her beau Cruise
• "I, too, am head over heels in love with Katie Holmes."
–
Billy Crystal
, joking at the Tony Awards
• "I wouldn't be attracted to a man who cheated on his wife."
–
Angelina Jolie,
again denying she had an on-set affair with Brad Pitt
• "Be careful of the paparazzi."
–
Lindsay Lohan,
whose car was hit by a photographer's, at the MTV Movie Awards
• "I've had quite a few years now of being the man with the black hat. Maybe I'm going to get a new hat soon, you know? Here's hoping."
–
Russell Crowe,
on his bad boy reputation. Later, he would be arrested on charges of assaulting a hotel employee with a telephone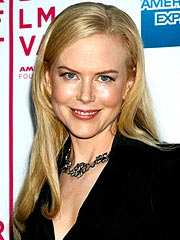 • "I would watch the show and wish that I was married to Darrin. I don't know why. He was a bit of a geek, but I like that."
–
Nicole Kidman,
on growing up fantasizing that she was Samantha from
Bewitched.
Her movie based on the series opens June 24
• "We chose her middle name because when she's pulled over for speeding she can say, 'But officer, we're on the same side.' "
– Magician-comedian
Penn Jillette,
on naming his newborn daughter Moxie CrimeFighter
• "She said she was going to take it off with her cheese grater."
–
Amber Tamblyn,
on how mom reacted to her daughter's tattoo