• "After a lot of discussion and some deep soul searching, we realized that our current tour has given us the opportunity to leave Destiny's Child on a high note, united in our friendship and filled with an overwhelming gratitude for our music, our fans and each other."
–
Destiny's Child,
announcing that they will break up after the summer
• "Personally, I think it's a bad move on my part."
–
Brad Pitt,
regretting dying his hair platinum blond
• "This is possibly the most shameful situation I've ever gotten myself in, in my life, and I've done some pretty dumb things in my life. So to actually make a new No. 1 is spectacularly stupid."
–
Russell Crowe,
apologizing for throwing a phone at a New York City hotel concierge, to David Letterman
• "Contrary to reports, I was not overheard in a restaurant saying, 'Oh no, not again.' That's absolute rubbish."
–
Danielle Spencer,
on finding out that husband Crowe had been arrested
• "You get hot, you sweat and you get a headache. But I'm not going to bitch about it. I'm playing Batman!"
–
Christian Bale,
on wearing his costume in
Batman Begins
• "He didn't smell too good when I was working with him and he was in that suit."
–
Batman Begins
costar
Gary Oldman,
on Bale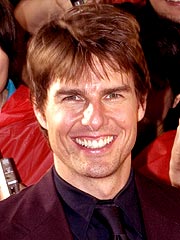 Nathan Shanahan / WireImage
• "It's gonna happen, man. It'll happen."
–
Tom Cruise,
on whether there is a ring in his and Katie Holmes's future
• "Never get a tattoo with someone's name on it unless you're ready to get another one put over it."
–
Billy Bob Thornton,
whose ex-wife Angelina Jolie had his name removed from her left arm
• "George Lucas is a sadist, but like any other young girl in a metal suit chained to a metal (creature), I keep coming back for more.''
•
Carrie Fisher,
who played Princess Leia in the first three
Star Wars
movies, at the AFI Awards honoring the films' creator