• "There'd be all these girls around, and he'd flirt with them, and I couldn't handle it."
–
Lindsay Lohan,
on why she and her ex-boyfriend Wilmer Valderrama broke up, to London's
Sunday Telegraph
• "Matt, Matt, Matt, you don't even – you're glib, you don't even know what Ritalin is."
–
Tom Cruise,
to Matt Lauer on NBC's
Today,
during a heated debate about psychiatry, which Cruise is adamantly against
• "I thought I was being smug, not glib."
–
Matt Lauer
• "I think Hollywood should take a crack at being original for a change."
–
Shirley MacLaine,
at the premiere of her new movie,
Bewitched,
based on the 1960s TV show
• "My family and I have just gone through the least humorous chapter of our lives. I'm going to leave the jokes to the late-night (comics), if that's okay."
–
Janet Jackson,
accepting an award from the Human Rights Campaign. Her brother Michael was acquitted on child molestation charges in June.
• "My heart will always look up into the sky and feel optimistic about what's out there."
–
War of the Worlds
director
Steven Spielberg,
on the possibility of intelligent life in the universe, to
USA Today
• "I was definitely lonely 10 and 15 years ago. There are whole chunks of my life where I was so lonely and periods where I felt I didn't have a friend in the world and wondered if it was ever going to be possible for me to have a relationship that was going to last."
–
Madonna,
who has been married to director Guy Ritchie for five years, to
Grazia
magazine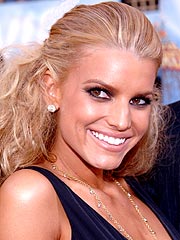 • "No, 'cause I'm definitely ditzy, and people believe that about me. But, I mean, I'm not dumb."
–
Jessica Simpson,
when asked by
GQ
if there were any misconceptions about her that she'd like to refute
• "Even today I don't feel like I've made it."
– California governor, movie star and former Mr. Universe
Arnold Schwarzenegger,
when asked about achieving the American Dream
• "I'll (see) some movies, check any zit I might have gotten on my face, do laundry and go for a walk without makeup."
– Grammy winner
Alicia Keys,
on what she likes to do on her days off, to the
New York Post