Sad times in the 100-acre wood. Two stars of Disney's
Winnie the Pooh
movies have died: Paul Winchell, who voiced the exuberant Tigger, and John Fiedler, who played Piglet. No cause of death was given for either man.
Winchell, 82, died on Friday, according to his daughter, actress April Winchell. Long before he started giving voice to the A.A. Milne character – Winchell's third wife and widow, Jean, gave her husband the line for Tigger, "Ta-ta for now" – Winchell was known to baby boomers as the man behind TV's puppets Jerry Mahoney and Knucklehead Smiff.
He was also the voices of Gargamel on
The Smurfs,
Dick Dastardly on
Wacky Races
and Fleegle on
The Banana Splits Adventure Hour.
His
Pooh
stint began in 1968.
He also was an inventor with a patent for a prototype artificial heart he built in the 1960s in the same workshop in which he created his dummies. Other creations included an "invisible" garter belt, a flameless cigarette lighter and an early version of the disposable razor, reports Reuters.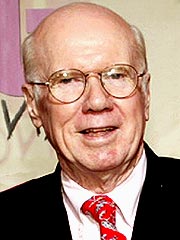 Frederick M. Brown / Getty
Fiedler, 80, died Saturday, reports The New York Times. He also had roles on Broadway (
A Raisin in the Sun
) onscreen (
Twelve Angry Men
) and on TV, playing the meek patient Mr. Peterson on
The Bob Newhart Show.
Meek was a Fiedler specialty: he also played a submissive new husband whose honeymoon keeps getting interrupted in the Cary Grant-Doris Day comedy,
That Touch of Mink.
A brother, a sister and numerous nieces and nephews survive him.