• "You recognize me now?"
–
Bobby Brown,
in the first episode of
Being Bobby Brown,
mimicking being handcuffed for the benefit of onlookers
• "If I found someone messing with him, I would cut them. It's not even a question of how much I would f--- them up. That's the ghetto side of me."
–
Fantastic Four'
s
Jessica Alba,
on being protective of her boyfriend, director's assistant Cash Warren
• "I remember Katie as a quiet little girl, who wouldn't say boo to a goose. Obviously some metamorphosis has gone on there."
–
Michael Caine,
on his
Batman Begins
costar and Tom Cruise's fiancée, Katie Holmes
• "I'm going to take a wild guess and say that Mr. Cruise has never suffered postpartum depression."
–
Brooke Shields,
in a
New York Times
op-ed piece blasting Cruise for criticizing the use of antidepressants
• "It was devastating to discover that a relationship I had publicized to the world as life-affirming and built on mutual love was actually based on deceit. I was humiliated."
–
Terry McMillan,
in divorce papers. The
How Stella Got Her Groove Back
author is seeking an annulment of her six-year marriage after learning that her husband is gay
• "I was so upset the first time I read something about myself that wasn't true. I thought, 'How can they make up things about me!?! They had me dating 50 (Cent), then Busta and Ray J. The latest is Missy (Elliott) – I was shocked when I read that one!"
–
America's Next Top Model
winner
Eva Pigford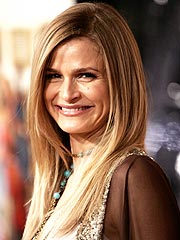 Jason Merritt / FilmMagic
• "I feel like I've fallen into a jar of honey."
–
Kyra Sedgwick,
on the surprise success of her new TV show,
The Closer
• "I knew I was probably a better actor than a figure skater. My skating coach always said to me, 'You'd be a lot better if you were dumb,' because you can't let your brain get in the way."
–
Rachel McAdams,
on her days as a competitive ice skater
• "If you just go out and deliver the same dish every time ... it's meatloaf again ... you'd get bored."
–
Charlie and the Chocolate Factory'
s
Johnny Depp,
on taking on versatile roles