• "It's exhausting – especially when you're trying to escape to save your own life, and you can hear the grip chewing a sandwich."
–
Scarlett Johansson,
on shooting against a blue screen for her new movie,
The Island,
to the
New York Post
• "I think he rendered me infertile."
–
The Island'
s
Ewan McGregor,
on director Michael Bay's motorcycle-chase sequences, to
Entertainment Weekly
• "He was not an ingredient or inspiration for the part at all. (
Charlie and the Chocolate Factory
author Roald) Dahl wrote this character in 1964, when Michael Jackson was a wee lad. I don't think he was inspired by him either."
–
Johnny Depp,
on assumptions that his Willy Wonka portrayal was inspired by the pop star
• "A fake name is very attractive."
–
J.K. Rowling,
telling 14-year-old interviewer Owen Jones about how she can take the pressure off writing her first non-Harry Potter book
• "I'm sad about it. I really thought Nicollette was a shoo-in. In terms of Eva, my prediction is she's leaving us all in the dust."
– Emmy-nominated
Desperate Housewives
actress
Marcia Cross,
on her snubbed costars, Nicollette Sheridan and Eva Longoria
• "I made a $35 million movie. That's the doughnut budget for
Mission: Impossible.
–
Billy Bob Thornton,
on his remake of the 1976 Little League classic
The Bad News Bears.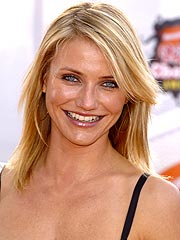 Steve Granitz / WireImage
• "The photos themselves were not offensive to me. I thought my boobs looked good ... At least I have that going for me."
–
Cameron Diaz,
testifying at the trial of photographer John Rutter, who is accused of trying to blackmail the actress with topless photos he shot of her in 1992
• "I may not be the greatest lover in the world. Well, let's make that angle work. There's lots of different paths to the waterfall. You don't have to be Don Juan."
–
Owen Wilson,
on his sexual prowess, to
Rolling Stone
• "I never thought I was anything special."
–
Elle Macpherson,
on her early years as a model, to
Vanity Fair