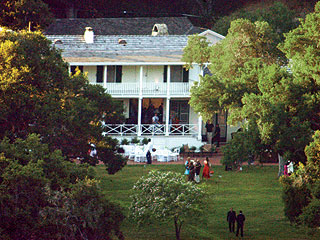 TOBY CANHAM / SPLASH NEWS
The quiet didn't last long. At first there was the sound of guests crying, both from the emotion of her mother's aria and from the sight of Sandy as a bride. Says one guest: "She never thought she was going to get married. She's waited a long time."
Next came laughter: In addition to the traditional vows, Bullock and James exchanged personal remarks. "They were kind of humorous," says the guest. "He wanted her to promise that he could bring home dogs that he found. And she wanted him to promise not to bring home any dogs until she okayed it." As the audience cracked up, Bullock looked at her groom and, says a guest, "looked absolutely gorgeous. [The exchange of vows] was very much their own. It was very beautiful and very sweet."
Says pal and florist Cecelia Heffernan: "She was totally relaxed and just so excited to marry him. There was no second-guessing about anything. Those two just wanted to be together."
During the 20-minute ceremony, the bride and groom exchanged bands. Hers was custom-made from platinum by Neil Lane according to James's design, with intricate beadwork to match her engagement ring; his was hand-tooled out of stainless steel by Bullock herself. After they officially became husband and wife, everyone applauded. Then, says Gesine, "we moved on to the fun stuff."