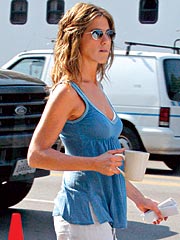 Pandora Tank:
The Pandora tank by C&C California, worn by Jennifer Aniston (left) is available for $62 at Ron Herman Melrose, 323-651-4129.
Nike's 10//2 Line:
The line of products, co-created by Lance Armstrong, including women's shirts ($18) and interlocking flip-flops ($25) are available by calling 800-344-6453. One dollar from the sale of each item will benefit the
Lance Armstrong Foundation
.
Jonathan Antin Products:
The star of
Blowout
has his own line of hair products, which are available for $18-$26 at
Sephora
.