• "When I went into the studio this time, there were no cameras and I was like, 'Yeeess!' "
–
Ashlee Simpson,
to
Entertainment Weekly,
on recording her upcoming album,
In Another Life,
minus the cameras from her MTV reality show
• "Am I lonely? Yes. Am I upset? Yes. Am I confused? Yes. Do I have my days when I've thrown a little pity party for myself? Absolutely. But I'm also doing really well."
–
Jennifer Aniston,
on her state of mind since the demise of her marriage to Brad Pitt, to
Vanity Fair
• "No one could ad lib like Peter. Sometimes he drove me crazy because he knew so many details. He just died much too young."
–
Barbara Walters,
on friend and ABC News anchor Peter Jennings, who died Aug. 7 at age 67
• "I feel as if I've lost a member of my family."
– Former NBC News anchor
Tom Brokaw,
on Jennings's death
• "I do think that it's an interesting phenomenon that somebody really can be famous for being super-good-looking. And that's what she and I both have done."
– Host
Jimmy Kimmel,
on Pamela Anderson, at her Comedy Central
Roast,
to air Aug. 14
• "I have to say I am a little nervous – the freshmen that I'll be with were eighth-graders when I graduated from high school."
– Former POW
Jessica Lynch,
on starting college at age 22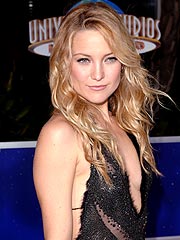 • "I will not disrespect my husband and stray."
–
Kate Hudson,
who is married to musician Chris Robinson, after telling
Access Hollywood
that monogamy is unrealistic
• "I'm not much of a weed guy. But when you're on Willie's bus ...
You
try and say no to Willie. Let Nancy Reagan try and say no to Willie. Bet she can't do it. I couldn't either. And I never will."
–
Johnny Knoxville,
to
Entertainment Weekly,
on fraternizing with costar Willie Nelson at the wrap party for
The Dukes of Hazzard
• "It's been reported that Britney Spears is having financial trouble and recently took out a $5 million loan. Kevin Federline offered to co-sign the loan and then everyone had a big laugh."
–
Conan O'Brien