• "She falls in love with musicians. I fell in love with good musicians."
–
Courtney Love,
at pal Pamela Anderson's Comedy Central roast
• "I knew she could do comedy. I just didn't know she could stand up."
–
Pamela Anderson,
on Courtney Love
• "She slipped herself a roofie."
– Roast host
Jimmy Kimmel,
joking about Love, who tripped onstage and frequently interrupted the night's performers
• "I was psyched to play a contemporary character and a role without a sword or a bow and arrow."
–
Orlando Bloom,
on his character in Cameron Crowe's upcoming
Elizabethtown
• "You know me: Any excuse to put on a dress."
–
Ellen DeGeneres,
who will host the Sept. 18 Primetime Emmys
• "The next phase? The growth of my partnership. The growth of our union. The growth of our family. Which is all the things we truly desire ... to expand our family."
–
Demi Moore,
on her relationship with Ashton Kutcher, to
Harper's Bazaar
• "I look to him as the ultimate example of defying the odds with strength, courage and hope in the face of life's adversities."
–
Dana Reeve,
on how the memory of her late husband, Christopher Reeve, is helping her battle lung cancer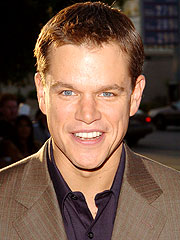 • "My brother's theory on fame ... is that you retard emotionally at the moment you become famous. So depending on what age you are, that's exactly where you're suspended forever."
–
Matt Damon,
to
Premiere
• "She was all over me. I was drinking and she was crossing the line strippers shouldn't normally cross. ... If I had been sober, perhaps I'd have acted quicker. I realized I was being careless and had to get the hell out of there."
–
Matt LeBlanc,
on a recent encounter with a stripper in Canada, to the
National Enquirer
• "I'm grateful this ordeal is over, and I'm so looking forward to getting back to the job I love."
–
Paula Abdul,
after an independent inquiry cleared her of any wrongdoing with former
American Idol
contestant Corey Clark