• "I feel uncomfortable with people reading too much about my pregnancy or my relationship. It grosses me out. It's too sweet to read about or dissect or talk about." –
Jennifer Garner,
a.k.a. Mrs. Ben Affleck, to
InStyle
• "It took months for my chest hair to grow back. I thought I'd be all macho, but it hurt like crazy. I doff my cap to women. I'd have none of it."
–
The 40-Year-Old Virgin
star
Steve Carrell,
on his waxing scene, to
Entertainment Weekly
• "We had to simplify it. Diddy is more personal. We are entering into the age of Diddy. It's a new era."
–
Sean "Diddy" Combs,
formerly known as P. Diddy, on why he changed his moniker, to
Access Hollywood
• "I forget I'm pregnant, and then I get a kick in the stomach."
–
Heidi Klum,
whose second child is due in September, to
Vitals
magazine
• "Death is the best thing that can ever happen to a rapper. Almost dying isn't bad either."
–
Kanye West,
on his near-fatal car crash in 2002, to
Time
• "A good thing never ends."
–
Mick Jagger,
62, during the kick-off of the Rolling Stones' latest world tour at Boston's Fenway Park
• "Of course they look a little different. We all do."
–
Gov. Arnold Schwarzenegger,
on the Stones
• "Eight years ago, if I'd invite someone over to my place for a tofu burger, they wouldn't be interested."
– Coldplay's
Chris Martin,
on being named the world's sexiest vegetarian in a PETA poll, to
Rolling Stone
• "I realized I was the one who'd been hit. ... Every second that passed by, I thought, 'That's the last one. That's the last second I'll be here.' And it was terror, disbelief and just a prayer: 'Please don't let this be it.' "
– Singer-songwriter
Marc Cohn,
on being shot during an attempted carjacking, to
20/20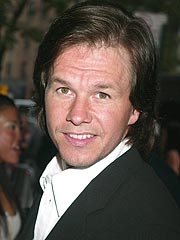 • "I've come to embrace it. That thing is my prized possession."
–
Mark Wahlberg,
on his much-talked-about third nipple
• "I would hate to die tomorrow and be known only as that dancing guy with the green pants in the video. I don't want to be remembered as the 'Hey Ya!' man."
– Rapper, actor and fashion designer
Andre Benjamin,
on his greatest fear, to
InStyle
• "When I first moved to L.A., I'd go out and at the end of the night Justin Timberlake and Leonardo DiCaprio would be waiting in line for their cars, but mine was always there first because the valets were Latin."
– Colombia-born
Four Brothers
actress
Sofia Vergara,
to
InStyle