• "I wasn't going to let a little thing like a hurricane keep me from wearing my bathing suit."
–
Desperate Housewife
Eva Longoria,
who wore her sexy one-piece onstage at MTV's Video Music Awards in Miami
• "We're definitely not the Susan Lucci of the VMAs."
– Green Day frontman
Billie Joe Armstrong,
on his band's seven VMA trophies
• "Shakira. She turns me on. And I'm not on that team."
–
Kelly Clarkson,
on whom she was excited to see perform at the VMAs
• "Well, it's not like we met and I put down my party hat. She met me, fell in love with me, then she met Darth Vader and said, 'I don't like that guy.'"
–
Robert Downey Jr.,
to the
L.A. Times,
on his new wife, film producer Susan Levin
• "If we decide to continue being together or not, it's our business."
–
Gwyneth Paltrow,
on why she doesn't talk about her relationship with husband Chris Martin to the press
• "Hi, we've just gotten into an accident. Unfortunately we have a bunch of paparazzi cars also following us."
–
Scarlett Johansson,
in a 911 call to the California Highway Patrol after getting into a fender bender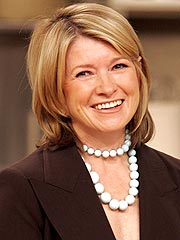 • "I have a microphone on one ankle and a bracelet on the other. I'm well balanced today."
–
Martha Stewart,
to reporters visiting the set of her new daytime show. Her home confinement ends tomorrow
• "Yeah, yeah, I licked a toad. Tastes like chicken."
–
Matt Damon,
on filming a scene for
The Brothers Grimm
• "
The 41-Year-Old Whore.
That would probably be the sequel."
–
Steve Carell,
whose
The 40-Year-Old Virgin
topped the box office two weeks in a row