Describing her terrifying ordeal, one survivor of Hurricane Katrina tells PEOPLE that she was prepared to face her death.
"I said, 'Okay, if it's my time, let's just get it over with,'" says Bonnie Lambert, 58, of Biloxi, Miss., one of many to share their stories from what's being called one of the country's worst natural disasters.
"It started around 5 a.m.," Lambert adds. "My little Pomeranian, Sugar, went into this closet in the center of my house, and I went in there with her. But then the water started sloshing up underneath me, and I got up. My refrigerator started floating over to my cooktop. Then the waves came up and my house started floating. I was terrified."
This is when Lambert was ready to meet her end. Only her time, she discovered, was not up. "My deck saved me," she says. "It's built around a 650-year-old oak tree, and the tree acted like an anchor. If it weren't for the tree, my house would have floated down the street. All the houses around me are washed away."
Another Biloxi resident, George Griffith, 42, said he "was upstairs watching TV" when "the wind started howling." He ended up in the upstairs bathtub once the waters reached 8 ft. in his downstairs laundry room, only to "lay there a few hours, and then the walls were knocked down on three sides of the house. After the walls left, it was time to go."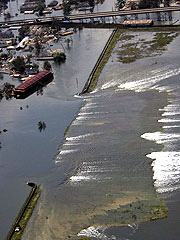 Only that wasn't so easy. "I was just reaching for things in the water," he says. "I lost my glasses and cell phone trying to grab ahold on anything floating. I found an old power line attached to the side of the building and held onto it. The water was over my head and sucking me in and out of the building, just beating me back and forth ... for three or four hours. Finally the water went down. Now my house has no walls, no windows. It's just got this big opening where I'm sitting in a recliner."
Meanwhile, Betty Vonderhaar, 70, decided not to evacuate and instead huddled with her son Mike, 41, and grandson Matthew, 13, inside her low-slung home in uptown New Orleans. As the storm worsened, she discovered that a grate on the roof was wide open, allowing water and wind to stream into the house.
"And then things just got worse and worse," she tells PEOPLE. "The winds got stronger and stronger. The walls shook. I mean the whole house was shaking. ... And then it was over. It was so quiet. It felt like
Twilight Zone
quiet."