While the Federal Emergency Management Agency has brought 25,000 body bags to Louisiana in preparation for the fatality count, those still living and stubbornly refusing to leave devastated New Orleans are being met with soldiers toting M-16s to force them out.
As for the city's raw-sewage-like swamped streets: The floodwaters are thick with certain viruses and a type of cholera-like bacteria that are at least 10 times higher than acceptable safety limits, health experts tell the Associated Press. The E coli level is 1 million times higher than the government allows in recreational waters, NBC News reports.
"If you haven't left the city yet, you must do so," said Dr. Julie Gerberding, director of the Centers for Disease Control and Prevention, urging anyone coming into contact with the water to scrub with soap and water.
The danger of infection is not confined to the New Orleans area. There are fears of the bacteria having migrated to crowded shelters outside Louisiana, where many evacuees are staying. Four deaths – one a storm victim sent to Texas and three others in Mississippi – have been attributed to wound infections, said Tom Skinner, spokesman for the CDC.
That grim news was somewhat tempered by indications that Katrina victims could soon get their hands on federal money. FEMA, heavily attacked for having failed to act expeditiously when the catastrophe hit, is reportedly handing out $2,000 debit cards for each household affected by the storm.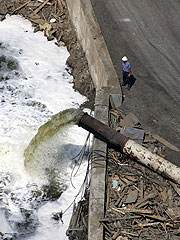 David J. Phillip / Pool / Reuters
"The concept is to get them some cash in hand which allows them, empowers them, to make their own decisions about what do they need to have to start rebuilding," said FEMA head Michael Brown, who has borne the brunt of the criticism over the government's relief effort.
Meanwhile on Thursday President Bush announced a national day of prayer for Katrina victims. "I've declared Friday, Sept. 16, a national day of prayer and remembrance," Bush said in a televised afternoon address. "I ask that we pray as Americans have always prayed in times of trial, with hope for a better future and with the humility to ask God to keep us strong so we can better serve our brothers and sisters in need."
In Bush's home state, the rebuilding process has already caused an exodus across Texas. In Houston, the number of displaced survivors was down Wednesday to a total of 8,096 among four shelters (including the Astrodome), according to U.S. Coast Guard Lt. Joseph Leonard.
Some survivors plan to remain in the state. Others are catching buses or planes elsewhere.
Yvette Herbert, a 19-year-old who temporarily lived in the Astrodome, said buses were leaving for cities all over the country Wednesday. Among the destinations were Chicago, Atlanta, Detroit and numerous cities in California.
"Everywhere except New Orleans," said Herbert. "I want to go back home, but we can't right now."