The old and the new won big at Sunday night's Emmys, as ABC's rookie series
Lost
was named outstanding drama series and CBS's
Everybody Loves Raymond
said goodbye with top comedy honors.
Along with the HBO movie
The Life and Death of Peter Sellers, Raymond
was the night's big winner, with three Emmys. Doris Roberts and Brad Garrett of
Raymond
also won, for their supporting roles.
"I have to dedicate this to Britney and our baby," Garrett joked. "This is amazing."
Felicity Huffman took home the coveted
Desperate Housewives
Emmy, being named best actress in a comedy series over her nominated costars Marcia Cross and Teri Hatcher.
Huffman – who plays Lynette, the harried mother of four on
Housewives
– said to the other women of her show, "I love you," but saved her most ardent sentiment for last.
"I'd like to thank the incredible William H. Macy for taking a chunky 22-year-old ... and making me his wife," Huffman said.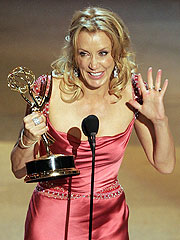 Patricia Arquette, who plays a problem-solving psychic in NBC's
Medium,
was named best drama series actress, and in her speech offered her "respect and gratitude" to volunteers helping Hurricane Katrina victims and issued a prayer that soldiers in Iraq "come home safe and sound."
Tony Shalhoub won his second Emmy as best actor in a comedy series, for
Monk,
and James Spader won his second consecutive Emmy as dramatic series actor, for
Boston Legal.
(He previously won for the same character on
The Practice.
)
In his speech, Shalhoub joked: "I just want to say to the other actors, there's always next year – except Ray Romano." Romano's
Everybody Loves Raymond
ended its nine-year run this year. From the audience, Romano good-naturedly rolled his eyes.
While
Housewives
went into the evening tied with
Will & Grace
for most nominations, 15, its other main award was for its direction, by Charles MacDougall. ABC's satiric suburban series lost the comedy writing Emmy to FOX's ratings challenged
Arrested Development
– whose writers acknowledged that no one watches their show.
Besides its top drama series victory, ABC's
Lost,
about crash survivors stranded on a mysterious island, won an Emmy for its director, J.J. Abrams.
For the third year running,
The Amazing Race
beat out such heavy contenders as
The Apprentice
and
Survivor
to win best reality-competition program.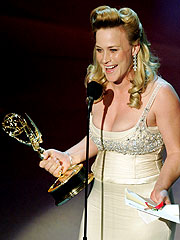 Jon Stewart and his team from Comedy Central's
The Daily Show
won Emmys for comedy writing and for best variety, music or comedy series.
Geoffrey Rush, who won outstanding TV-movie actor for
The Life and Death of Peter Sellers
(for which he also won the Golden Globe last January), cited such classic American TV shows as
The Real McCoys,
The Red Skelton Show
and
Sugarfoot
as inspiring him to become an actor when he watched them as a child in his native Australia.
The HBO movie about the late
Pink Panther
star also won an Emmy for its director, Stephen Hopkins, as well as another for its writers, Roger Lewis and Christopher Markus.
Even so, the Emmy for best TV movie went not to
Sellers
but to HBO's
Warm Springs,
about Franklin D. Roosevelt's struggle against polio. Jane Alexander won the Emmy for supporting actress in a TV movie for her role as FDR's imperious mother, Sarah Roosevelt.
Best actress in a TV movie went to S. Epatha Merkerson, for HBO's
Lakawanna Blues,
who complained to an appreciative audience that her acceptance-speech notes had slipped down her cleavage.
The Lost Prince,
a Masterpiece Theater production about Britain's real-life Prince John, the youngest child of George V and Queen Mary (and an epileptic who was kept from public view), was named best miniseries.
When the entire cast of
Everybody Loves Raymond
gathered onstage – likely for the last time – to present an award, star Ray Romano asked his TV mom Doris Roberts why she couldn't stop laughing. "Oh, honey," she told him, "I've been drunk since the wrap party."
Roberts and costar Brad Garrett were early winners, while supporting dramatic honors went to Blythe Danner, for
Huff,
and to
Boston Legal
's William Shatner – who over the course of the three-hour ceremony also delivered a campy vocal rendition of the
Star Trek
theme with opera star Frederica von Stade.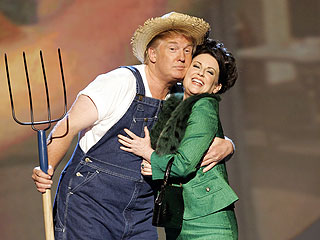 Mathew Imaging / FilmMagic
Still, Donald Trump and Megan Mullally's version of
Green Acres
was voted favorite old theme-song performance of the night by the public in a contest called "Emmy Idol."
The evening also recognized the contributions of Johnny Carson, the king of late night who died in January, and late ABC anchor Peter Jennings, who was remembered by his colleagues, Tom Brokaw and Dan Rather.
Here's a rundown of the major winners:
•
Drama Series:
Lost
•
Comedy Series:
Everybody Loves Raymond
•
Miniseries:
The Lost Prince
•
Made-for-TV Movie:
Warm Springs
•
Reality-Competition Program:
The Amazing Race
•
Lead Actor, Drama:
James Spader,
Boston Legal
•
Lead Actress, Drama:
Patricia Arquette,
Medium
•
Lead Actor, Comedy:
Tony Shalhoub,
Monk
•
Lead Actress, Comedy:
Felicity Huffman,
Desperate Housewives