• "Once our storyline gets under way, I just hope people don't throw cabbages at me in the market."
–
Alfre Woodard,
on her new
Desperate Housewives
character, Betty, and her chained-in-the-basement secret
• "It sounded like Dodger Stadium in there."
–
Taryn Manning
(
Hustle & Flow
), on the burst of applause following the landing of a crippled JetBlue airliner in L.A. The actress was one of 140 passengers who watched their own ordeal on inflight TV
• "What's Tom Cruise going to stand on?"
–
Chris Rock,
visiting Oprah Winfrey's new set, which lacks a couch
• "It has been reported that the Church of Scientology is reaching out to model Kate Moss to help her with her cocaine problem. Tom Cruise told Moss, 'Trust me, you don't need cocaine to jump around like an idiot.' "
–
Conan O'Brien
• "I want to apologize to all of the people I have let down because of my behavior, which has reflected badly on my family, friends, coworkers, business associates and others."
–
Kate Moss,
after a British newspaper published photos of her allegedly snorting cocaine
• "I went to Europe for a month on tour and we kinda dated by Blackberry."
–
Sheryl Crow,
on the beginning of her relationship with fiancé Lance Armstrong, to
Entertainment Weekly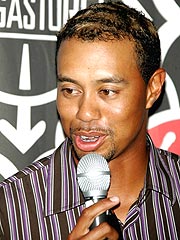 Rick Mackler / RANGEFINDER / GLOBE
• "Just having fun. Got to do it while I've still got it."
–
Tiger Woods,
on why he dyed spots in his hair
• "I've never had a movie where they put me on a building. It's a little weird."
–
Jodie Foster,
on seeing billboards for her new film,
Flightplan,
around Los Angeles
• "I'm very rarely beyond words, and I am right now."
– An ecstatic
John O'Hurley,
after winning the
Dancing with the Stars
rematch against original champ Kelly Monaco