Revealed: Martha Stewart's equivalent of Donald Trump's "You're fired," on
The Apprentice: Martha Stewart,
which premiered on NBC Wednesday night.
"Jeff," she said, "you just don't fit in. Goodbye."
But wait, there's more. Jeff, a contentious creative director from New York, received a handwritten note from the domestic diva, on her ecru-colored personal stationery.
"Dear Jeffrey," it said (as Martha read it in voiceover), "I'm sorry that you are the first to go. Not to fail, but rather not to fully succeed."
So much for his chances for a $250,000 position at Martha Stewart Living Omnimedia, which is the grand prize in this new reality show.
For their first task, the 16 candidates were asked to update a classic fairy tale and make it relevant – and marketable – to the lucrative children's lit business.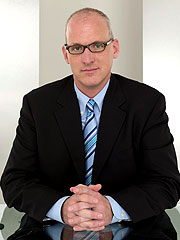 Virginia Sherwood / NBC Universal
"Lesson number one: connecting with your audience," Stewart told the candidates, also telling them: "I want you to have fun, but I also want you to succeed."
One team, who called themselves Matchstick, didn't succeed. First-graders didn't think much of their new, improved
Hansel and Gretel.
The other side, named Primarius, conquered all with their
Jack and the Beanstalk.
Meanwhile, as The New York Times notes in its morning-after review of the show, "
Apprentice
contestants sleep on Martha Stewart sheets, eat off Martha Stewart plates and tap on their laptops on a Martha Stewart table."
What surprised the critics, though, was the new, improved Stewart herself. "The most remarkable thing about Ms. Stewart," The Times says, is not how the Martha's mood has shifted from "steely" to "cheery," but "how quickly and seamlessly she has woven a felony conviction and incarceration in the Martha Stewart brand."