Angelina Jolie made a young cancer patient's wish come true on Tuesday, paying a visit to 6-year-old Dylan Hartung.
The
Tomb Raider
actress spent more than an hour with the boy at Manhattan's Ronald McDonald House. Dylan, who's suffering from a nerve cell cancer that has spread to his bones, has been staying there with his mom since January while he undergoes treatment at nearby Memorial Sloan-Kettering Cancer Center.
Jolie "introduced herself as Angie and said, 'I heard you are a very special boy. I've been eager to meet you,'" Dylan's mother Melissa tells PEOPLE. "She gave him a cuddle and a kiss. He told her that she was his ultimate 'Chickie Babe' and she just laughed."
The pair talked about Jolie's movies – Dylan's favorites include
Tomb Raider,
Mr. and Mrs. Smith
and
Gone in 60 Seconds
– and looked at Dylan's rock collection together, says Melissa, who called the actress "very relaxed and very lovely."
As for what Dylan thought of meeting his favorite movie star: "She was very, very nice," he says of Jolie, who brought Dylan some PlayStation games and gift vouchers for Toys R Us.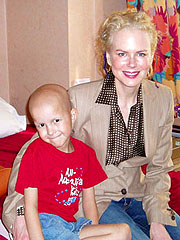 This wasn't Dylan's first superstar visitor. In August, Nicole Kidman paid a visit to the child's hospital room after reading about Dylan, a fellow Australian, in the newspaper.
During Kidman's visit, Dylan told her that he had two wishes: to meet Angelina Jolie and cure cancer. Kidman said she'd see what she could do about the Jolie part, and soon notified the actress about Dylan's wish.
Now, his only wish is to find a cure for cancer. "All of his other wishes have come true, thanks to other people," says Melissa. "It's amazing."
For more on Dylan's battle, go to his Web site,
www2.caringbridge.org/me/dylanhartung/
.