As temperatures climbed well into the 90s and the heat index was near 106 degrees, the death count from the weekend's Hurricane Rita rose to 10 people on Monday when the bodies of five people were discovered in a Beaumont, Texas, apartment.
A man, his girlfriend's three children and their aunt apparently were overcome by carbon monoxide from a generator they used to power fans to cool their home, reports the Associated Press. The generator should have been kept outside instead of inside the house.
And while Rita hit Houston and Galveston with less ferocity than was feared, small rural communities in southwest Louisiana and southeast Texas were heavily hit by Saturday's tropical storm, as Monday's surveys of the damage made evident.
"East Texas needs everyone's attention this hour, right now, and it doesn't matter whether it's the state or FEMA or the Corps of Engineers. I don't really care whose fault it is. It needs help now," U.S. Rep. Kevin Brady said, according to the Associated Press. "These communities are the last to complain, but they've reached the end."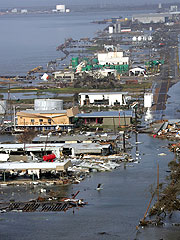 President Bush is expected to make his seventh trip to the hurricane area on Tuesday, to check on the damage. Because of soaring gas prices related to the storms, the president on Monday asked Americans to cut back on their driving.
While residents of the Texas refinery towns of Beaumont, Port Arthur and Orange were blocked from returning to their homes because of the danger of debris-choked streets and downed power lines, authorities in Louisiana were unable to keep away bayou residents. Many ventured in by boat to see if Rita wrecked their homes.
"This is the most damaged area I've seen in the state, the worst," Army Lt. Gen. Russel Honore said of the debris-strewn Cameron Parish, a coastal, sparsely populated town next to the Texas border. Seawater pushed as far as 20 miles inland, drowning acres of rice, sugarcane fields and pasture. "I didn't see anything from Katrina, except in Mississippi, that was as bad," Honore added.
In New Orleans, the official reopening of the city was back on track as Mayor Ray Nagin welcomed residents back to the Algiers neighborhood, where they found a curfew, limited services and no critical care hospital services.
In the Ninth Ward, the Army Corps of Engineers continued pumping water back into the Industrial Canal. It expects to have the water out by the weekend, said Mitch Frazier, an Army Corps spokesman.