• "No."
–
Beyonce,
shutting down rumors that she and beau Jay-Z were secretly married, in the November issue of
Vanity Fair
• "I have seen the breakups between people who love each other and rush into getting married too quickly. I do not want to make that mistake."
–
Paris Hilton,
in a statement announcing she was breaking her engagement to Paris Latsis
• "I think I should run on the 'Yes, I did it' ticket. It starts with, 'And I drank the bong water.' "
–
George Clooney,
when asked if he would ever seek public office
• "The last article that I read (said), 'And she has crooked teeth.' I thought, 'Let's throw that one away. I don't want to read these anymore, they're just too stupid.' "
– Emmy winner
Patricia Arquette
(
Medium
), on why she no longer reads reviews
• "I can't do nude scenes now because of the scar."
– Rotund
Sopranos
actor
Vincent Pastore,
on undergoing emergency triple-bypass heart surgery several months ago
• "Five years later I still can't stop talking to him, you know? We sit at a dinner and we can't get enough of each other's conversation. And we like making out."
–
Charlize Theron,
on her boyfriend,
Night Stalker
star Stuart Townsend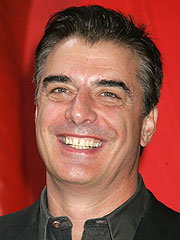 • "You know, every dead body is just a glorious celebration."
–
Chris Noth,
to Katie Couric, on his return as Detective Mike Logan to
Law & Order: Criminal Intent
. Noth left the original series in 1995.
• "She sees something at 5,000 feet below the ocean's surface and she wants to touch it. I'm like, 'Get me the f– out of here. ' "
–
Lake Bell,
on the difference between her and the fearless oceanographer she plays on the new series
Surface
• "I'm a deeply lazy person"
–
Extras
creator
Ricky Gervais,
on why his new HBO series is only six episodes long, to
GQ