Nicolas Cage and his wife, Alice, welcomed their first baby, a boy, born Monday morning.
Kal-el Coppola Cage was born in New York City, Cage's publicist, Annett Wolf, confirms to PEOPLE.
"Alice is very, very happy, and the three are doing extremely well," Wolf says.
As it turns out, Kal-el is the comic-book birth name of Superman on the planet Krypton. The name Coppola, however, is Cage's family name. His uncle is the director Francis Ford Coppola.
Cage, 41, and Alice wed in a private ceremony in July 2004, just six months after they met at the Los Angeles nightclub Le Prive. At the time, Alice, a former sushi waitress, was 20 years old and living with her mother and siblings in nearby Granada Hills.
Cage has another son, Weston, 14, from a previous relationship with ex-girlfriend Christina Fulton, with whom the
Lord of War
star shares custody.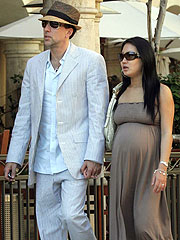 Cage was previously wed to singer Lisa Marie Presley (they divorced in 2002 after several months of marriage) and actress Patricia Arquette (they were married for 5 1/2 years, though they separated just nine months after their 1995 nuptials).
The actor said about his life since marrying Alice, "I don't want to say (I am) happy because that's too fragile a word, but I'm definitely content, and I'm hopeful about the future."
And as Cage's
National Treasure
producer Jerry Bruckheimer told PEOPLE late last year about the couple: "He loves her and that's really nice to see. She makes him very happy."