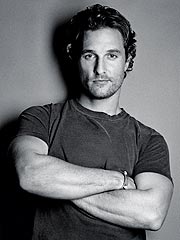 Section I: Matt Chooses One
Friends first or just lovers?
"Friends."
PDA or behind closed doors?
"I'm not much for [PDA]. I'll hold my girl. If I feel like giving her a kiss, I'll give her a kiss. But I don't care to tongue-down in public for the masses. I'll pass. That's not for everyone's display. I wasn't like that when I was 14, 15, 17, 18, 19, 20 either. I never had that need, 'Hey, I'm going to show everyone this is my girl.' It's like, 'What's the advertising about?' It's the same way when you're at a party, your girl goes off, talks to someone else. If it's going to go wrong then, it was going to go wrong somewhere down the line. You can have your back turned. Actually I think it's essential to a good relationship that you have to be able to shut that kitchen door and trust that everything's cool on the other side of it."
Jealous or play it cool?
"Sure, I can get a little bit jealous. The good part about jealousy is that it comes from passion. It's also the dangerous part and it's an ugly emotion that hurts. But it's natural, sure."
Break up by phone or in person?
"Always in person. I've been fortunate; I've had a lot of great women in my life and I haven't had relationships that were frivolous. It's degrading to do it by phone. Going for the straight shot, that sucks, but you don't have to look over your shoulder anymore. And if you run into that person, you don't have to sneak out the back door."
Stay friends or stay away?
"I still remain friends with every woman that I've ever really cared about. I just don't know how to put Wite-Out over that period in my life. No one was lying during that time, it just didn't work out. So hopefully you're going to be inviting me to your wedding and I'm going to be inviting you to mine."
Roses or chocolate?
"Neither. I don't think I've ever gotten chocolates. But I've always gotten the type of flower that I know they appreciate or that represents the two of us. My mom likes a big bouquet and she always gets flowers on Valentine's Day. For Penélope, I'm not going to throw it out there, but I know what it is. I've got it down to where if that flower's there, I don't even have to put a card with it. She knows exactly who it's from, no card necessary."