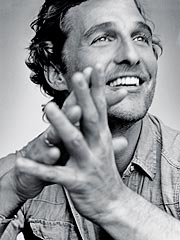 Valentine's Day or any day?
"For me, one of the toughest things about Valentine's Day is that it gets geared up as the day to profess your love. See, T-E-S-T – that's a bad word that doesn't go with L-O-V-E. Now, if I find a gift that goes, 'Ooh, that's her' or 'That's my woman,' I'm going to get it and I'm not going to hold onto it. I don't know how to save it. I'll give it to you on Tuesday. The tough thing is that some of my best gifts can be Tuesday in November and then come Christmas and birthday I'm going, 'I've painted myself in a corner! How am I going to get out? I can't top the last one that I gave "just because"!'"
Wax or no wax?
"Absolutely not. No, no, no, never."
Take out or cook in?
"I like to cook. I make a real good pasta with red sauce. All my plates are oversized. I'll put cold salad on the bottom and put hot pasta over it. Corn will be in the marinara. Usually just a spaghetti. Garlic, that's the first thing, and then bring down the yellow onions and fresh tomatoes, and just a shot of Prego out of the bottle helps with the viscosity. It's very important, you want it to stick to the noodle. And then Italian sausage."
Beer or champagne?
"Beer. I like Miller Lite or Coors Light. I would rather receive a case of beer than a bottle of 1987 Dom Perignon. Actually out of a can is my favorite. I usually drink my beer on ice, that way you get hydrated on the way. Like me and my brothers [Michael ("Rooster"), 51, and Patrick ("Pat"), 42] say, 'We like to drink, we don't like to get drunk.'"
Jeans or tux?
"Well, I like a good pair of jeans but I also like putting on a nice tux. I'd rather go around in a good pair of jeans that you don't wash every day, because they get more and more comfortable. I've got a good pair of Levi's, 33/34s. But a good tux feels great and looks sharp. I've got a 1994 deep olive-green Armani suit. When you find a good suit, it doesn't ever go out of style."
Airstream or car?
Airstream. It has a few necessities: (1) A customized barbecue pit on the back. (2) A generator "if I'm not at an RV park." (3) A satellite dish. "I can get DirecTV and online wireless within 20 yards." (4) Fresh coffee. "I have this little percolator that makes the best coffee in the world. It's better than a French press, better than Starbucks." (5) A Bose stereo system. "It plays off my iTunes." (6) A custom-made bed with organic cotton-silk sheets.