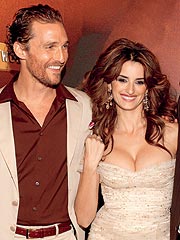 Section II: Being Matthew McConaughey
On his iPod?
"2,956 great tunes. Everything from Augustus Pablo to Gomez to old Zeppelin to an old Nugent tune to James McMurtry to Mischka."
In his fridge?
"I love tuna fish. I add sweet corn Niblets. Do you know how good it tastes? Mini dill pickles, Heinz Ketchup, cranberry juice, pomegranate juice, low-fat milk and cans of Miller Lite."
In his closet?
"A Just Keep Livin' T-shirt with a picture of my dad [Jim] on it, which is where Just Keep Livin' came from. Eight days after he passed away [in '92], I was trying to figure it all out. You've got to just keep living. That stuck with me."
In his driveway?
"My housekeeper Adriana's Pathfinder truck and my 2002 Triumph Thunderbird motorcycle."
On his TiVo?
"I don't have TiVo. I watch sports and I watch some films. During the week I watch Discovery or History [channels] or Outdoor Life Network. I like to get in bed and watch a movie."
On his nightstand?
"A book called
The Greatest Salesman in the World
– motivation, self-improvement, those are my favorite books to read. No clock or lamp, but there's some face and eye cream. And I always have bottles of water."
Bookmarked on his computer?
"MLB.com. The Houston Astros is my team. Cooking schools and the country of Mali."
On his answering machine?
"I just changed it on my birthday. It goes, 'Hey, this is McConaughey, Nov. 4, 2005, 36 times. Just keep livin' along the way. Talk to you. Later.' "
In his shower?
"Cetaphyl soap. I have Sonicare toothbrushes because I always brush my teeth in the shower. Then I have shampoo, conditioner and tea tree hair oil, just to give it some texture. I've been using Regenix, stuff for healthy hair to keep this hair strong, because in the year 2000 some of this hair was falling out. 'Not yet, baby!' "