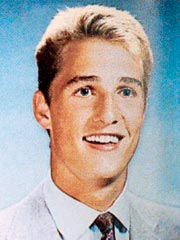 HOLY MORGAN / AKHTAR HUSSEIN / ONLINE USA / GETTY
Section III: Matt Fills In the Blanks . . .
If I weren't an actor, I'd be . . .
"a football coach. College first, but I'd be moving my way to pro."
My girlfriends always try to change . . .
"you know, I guess that's why I'm not their boyfriend anymore."
My worst habit is . . .
"the Skoal [chewing tobacco] is not a great habit. Nicotine. I'll have a cigarette."
People are always surprised when I . . .
"make my own face and body creams."
Women can't say no when I . . .
"really mean yes."
At a party I can't wait to . . .
"have a cocktail."
With cocktail in hand, I . . .
"look forward to how good the music is because I will be the first to find the groove. I mix some salsa moves in. No lessons; all freestyle."
I feel most comfortable when . . .
"I'm on the road, behind the wheel. And you can have the best sound system in your house, but I'll grab a beer and go out and sit in my car in the driveway and just jam. Sometimes the sunroof is open."
The movie that makes me cry is . . .
"King Kong with Jessica Lange. I remember crying at how much he loved her but he was an ape, he was the outcast. He didn't know."
The last time I cried was . . .
"Three weeks ago, I was watching something on the Discovery channel. This guy had gotten out of prison and was talking about rehabilitation. He was so honest about it, and that made me cry."
My father always taught me . . .
"Don't say 'can't' and don't lie. Always say 'Yes ma'am' and 'No sir.' My first whupping was when I told my brother Pat I hated him. My dad said, 'You never hate anything.' I haven't hated anything since."
My mother [Kay, 73] always told me . . .
"If you woke up and you were in a bad mood, she'd make breakfast and say, 'You come in here when you're ready to see the rose in the vase and not the dust on the table.' "