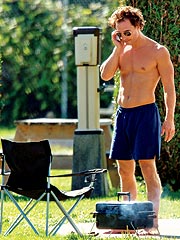 I feel sexiest when . . .
"I'm my own best friend. When I have nothing to prove."
Every guy should . . .
"know how to say what he can do and do what he says."
When I look in the mirror, I see . . .
"my mom and my dad. I'll see lines and say, 'Those are good smilers, man.' But most of the time, I see my best friend."
I'll get married when . . .
"I'm with the right woman and it's the right time. Have I met the right woman already? Maybe. Has it been the right time? Obviously not."
When I do, I see my wedding as . . .
"a union. I question marriage altogether: What does it really mean? The same thing that is beautiful is also what's scary. It institutionalizes it, but we want the ritual. Hey, this is our communion, in front of our loved ones. I'll say this: I may have some women lined up as my best men!"
As for kids . . .
"Yeah, I see family. I love kids. When it happens, I know I'll be a good dad. I look forward to it."
A perfect night with Penélope is . . .
"She loves to eat good food too. We get online or talk about some place we dream of traveling somewhere. And she loves to play blackjack. I dealt blackjack the other night. I walked away with her money. She owes me."
Penélope can get me out of a bad mood . . .
"by laughing at me. She's like, 'Ah ha ha ha ha!' and I'll say, 'Stop it!' And she says, 'I'm not scared of you.' She's very smart that way. She loves to talk about both sides and have opinions."
Upon hearing that you'd been selected as the Sexiest Man Alive ...
"I like the 'Alive' part. Now I've made it. Wait until you see the roles I could take after this. You're going to see my gut hanging over, plus 22 [lbs]. It'll be a whole new kind of sexy!"
• By Michelle Tauber. Elizabeth Leonard and Julie Jordan in Los Angeles