• "He's delicious and funny. He's got all the colors of the rainbow. But I don't want to be a rebound girl. I feel like it will happen when it happens."
–
Jennifer Aniston,
on rumors of a romance with her
Break Up
costar Vince Vaughn, to
Elle
• "We've met Angelina, and my family really, really likes her. She's great. Of course, we liked Jen too."
–
Doug Pitt,
on his brother Brad's new girlfriend, Angelina Jolie (and ex-wife Aniston), during a business speech to a Rotary organization
• "It's nice to see you, though."
–
Boy George,
refusing to speak to London reporters following his arrest in New York City for drug possession
• "Tom Cruise and Katie Holmes having a baby! That's the big story. So I guess Oprah's couch isn't the only thing he was bouncing up and down on."
–
Jay Leno
• "All of it."
–
Jessica Alba,
on the body part she felt most self-conscious about while filming her bikini scenes in
Into the Blue
• "It's a two-vodka day. I didn't say the size of the glass."
–
George Clooney,
on debuting the movie he co-wrote, directed and stars in,
Good Night, and Good Luck,
at the New York Film Festival, to
Entertainment Weekly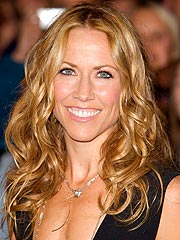 • "I should just sing 'Strong Enough to Be My Man' to Lance."
–
Sheryl Crow,
on the song she'd choose for her upcoming wedding to Lance Armstrong, to
Rolling Stone
• "I want to recognize him again. I want to see the guy that I married. I want to trust him, and I want to feel good and comfortable again."
–
Uma Thurman,
on her relationship with ex-husband Ethan Hawke, to Oprah Winfrey
• "It would have to be called
Basic Instinct 3: It Depends,
and they'd have to shoot it in a nursing home."
–
Sharon Stone,
star of the upcoming sequel
Basic Instinct 2: Risk Addiction,
on whether the franchise could become a trilogy, to
Time