Although Lindsay Lohan's rep was quick to blame paparazzi for the 19-year-old star's car smashup in West Hollywood on Tuesday, authorities investigating the collision said roaming photogs had nothing to do with it.
The sheriff's office also says the crash was not Lindsay's fault.
Lohan, freshly back in L.A. to work on her album, and an unidentified female passenger suffered minor injuries after the actress's black Mercedes-Benz convertible crashed into a Chevrolet Astro van on a busy street near the Beverly Center shopping complex.
The collision occurred after the driver of the van – identified by TV's
Access Hollywood
as Raymundo Ortega, 40, a busboy at a Beverly Hills eatery – made a U-turn in front of Lohan, Steve Whitmore, a spokesman for the Los Angeles County Sheriff's Department, tells the Associated Press.
Whitmore added that the van's driver may be cited. As for Lohan, he said: "She happens to be an innocent victim in all of this. The paparazzi, as far as we can tell, have nothing to do in terms of the accident."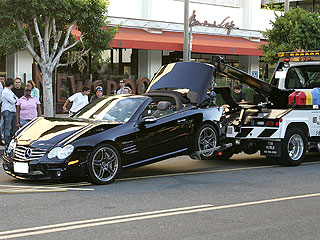 Before the crash, Lohan had a late lunch with friends at the Ivy Restaurant and then embarked on a shopping expedition that took Lindsay into a clothing store. "Paparazzi were outside the window following her, and she got in her car and zipped off," New Orleans resident Richard Starr, who was in California, tells PEOPLE – adding that "they couldn't keep up" as the actress pulled ahead.
Lohan's rep, Leslie Sloane, said: "This is another example of the paparazzi endangering citizens, both Ms. Lohan and the other driver involved in the collision. As the matter is still under investigation, we cannot comment further at this time."
This was Lohan's second such incident. On May 31 she emerged unscathed from a crash in which a photographer was booked on suspicion of assault with a deadly weapon after hitting her car while allegedly following her, according to Los Angeles police. Lohan's mother, Dina, said at the time: "I thank God my daughter was able to walk out of the car."
The occurrence also spurred the state of California to enact a law that reins in paparazzi and makes them liable for triple damages to any injured victims. That law takes effect Jan. 1.