• "Somebody asked me the other day, 'Do you have a chef?' and I said, 'Yes, her name is Reese.' "
–
Reese Witherspoon,
mom to Ava, 6, and Deacon, 2, to Oprah Winfrey
• "She wears the same outfit every day to school until she learns her lesson."
–
Madonna,
on how she disciplines daughter Lourdes, 9, for leaving dirty clothes on the floor
• "Everyone keeps saying he apologized, but I don't recall an 'I'm sorry' in there."
–
Denise Richards,
to Ellen DeGeneres, on husband Charlie Sheen's acknowledgment of wrongdoing on the
Late Show with David Letterman
• "I'm a bit speechless."
–
Daniel Craig,
upon being announced as the next James Bond
• "It f–ing sucks. Completely."
–
Pierce Brosnan,
on being dumped as 007 after four successful films, to
Premiere
• "You're singing your heart out and people are eating a salad."
–
Rent'
s
Idina Menzel,
on getting her start as a singer at bar mitzvahs and weddings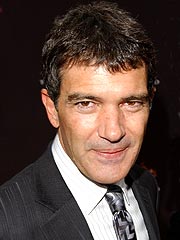 • "These movies, they hurt a little bit."
–
Antonio Banderas,
on making the stunt-heavy
Legend of Zorro,
to
Premiere
• "I love the nail gun."
–
Susan Sarandon,
on what she enjoys about volunteering for Habitat for Humanity, to
New York
magazine
• "The wife is preggers and we've narrowed it down to me."
–
Woody Harrelson,
announcing that he and wife Laura Louie are expecting their third child, to David Letterman