• "The biggest mistake that any of us can make is to believe what other people say about us."
–
Madonna,
to New York City's Hunter College students during a surprise appearance as a guest lecturer
• "Get the best people and don't trust them."
–
Donald Trump,
in a real-estate seminar for the Learning Annex. The mogul earned $1.5 million for the hour-long speech.
• "People assume a brown-haired woman is more serious. The intelligent blonde is unexpected."
– Harvard grad and natural brunette
Mira Sorvino,
to
Time,
on why she dyes her hair so fair
• "I've never been so happy ... I'm beaming."
–
Katie Holmes,
on expecting her first child with fiancé Tom Cruise
• "I think part of my destiny has to be realizing that I'm not the poster boy for drug abuse."
–
Robert Downey Jr.
• "I never wanted to be a salesman."
–
Walk the Line'
s
Joaquin Phoenix,
to
Entertainment Weekly,
on promoting his films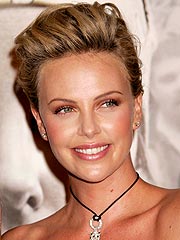 • "It's always frightening when that kind of talk happens this early. People get crazy. Madness ensues."
–
Charlize Theron,
to
Entertainment Weekly,
on the Oscar buzz for her new film
North Country
• "Jessica Simpson says she wants to star opposite Brad Pitt in the big-screen adaptation of
Dallas.
According to reports, Simpson has asked to play the part of Debbie."
–
David Spade,
on
The Showbiz Show
• "The Mark Twain Prize is more special to me (than any other honor) because it's more recent."
–
Steve Martin,
accepting the Mark Twain Prize for American Humor