Steve Carell (The 40-Year-Old Virgin):
"I did the best I could, but clearly, I'm dead."
Carrie Underwood:
"It will probably say
'American Idol,'
even if it's 2080!"
Robert Downey, Jr.:
"Gimme back my money."
Adrian Grenier (Entourage):
"He kept it real, from 1976 to whenever."
Selma Blair:
"I'm taking this one from Isaac Mizrahi: 'Finally.' There will be no more worrying about death."
Mo Rocca:
"Neither of his kids was named Phinnaeus nor Hazel."
Kirsten Dunst:
"I'm 23 years old. I'm too young (to feel mortality)."
Chris Harrison (The Bachelor):
"This is your final rose."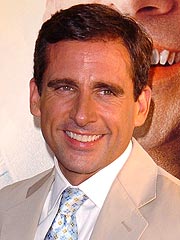 Andrew Firestone (The Bachelor):
" 'Super Bowl MVP, Major League World Series MVP, nicest guy in the world.' Actually, how about this: 'Wasn't a pain in the ass.' "
Diane von Furstenberg:
"It's a wrap."
Damien Fahey (MTV veejay):
"I am not Carson Daly."
Fran Drescher:
"Her laugh made them laugh."
Morgan Freeman:
"Shucks, I was having such a good ride."
Chevy Chase:
"Dig 'em up!"
For more celebrity Chatter, see this week's issue of PEOPLE, on newsstands now.