• "I started the movie with no hair on my body, and now I have hair all over my body."
–
Jake Gyllenhaal,
joking about the manliness of filming his new war movie,
Jarhead
• "I know actors say, I got in shape for a role. But he was working out twice a day sometimes, with a trainer who was like a Nazi."
–
Peter Sarsgaard,
on
Jarhead
costar Gyllenhaal's bulked-up body
•"Miss Theron has taken her struggle of the objectification of women to the magazine rack. Her firm naked body sends a message: 'I'm not an object to be leered at.' "
–
Stephen Colbert
(
The Colbert Report
), on Charlize Theron's racy
Entertainment Weekly
cover
• "I do not have a child and all allegations saying so are false."
–
Janet Jackson,
denying her former brother-in-law's claim that she has a "secret" 18-year-old daughter from her annulled marriage to James DeBarge
• "There's a rumor going around that Janet Jackson has a secret child. Hey, if I had a kid, I wouldn't want Michael to know about it either."
–
D.L. Hughley
• "I've got a catchphrase: 'You're fired.' Don King has a catchphrase: 'Not guilty.' "
–
Donald Trump,
at the Friar's Club Roast for boxing promoter Don King, who has spent time behind bars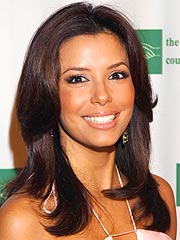 • "You have to kiss a lot of frogs before you get to your prince."
–
Eva Longoria,
on her dating life before meeting her beau, NBA star Tony Parker
•"I will be forever grateful for her courage and conviction."
–
Oprah Winfrey,
eulogizing civil-rights icon Rosa Parks
•"Although (the Mayan culture) is an integral part of the story, what I am doing is creating an action-adventure of mythic proportions ... and I am a megalomaniac, so I like the position."
–
Mel Gibson,
on helming his newest film project,
Apocalypto