After 15 often-hellish years behind bars, convicted killer Erik Menendez speaks to PEOPLE about life in prison, coming to grips with the crime he committed, and falling in love with Tammi – a pen pal who later became his wife.
Menendez and his brother Lyle, 37, children of privilege living in Beverly Hills, were convicted of one of the signature crimes of the last 20 years: the gruesome 1989 shotgun slaying of their mother, Kitty, and their entertainment-executive father, Jose – carried out, it appeared, so that the boys could inherit the family fortune sooner rather than later. Which is why when Erik talks these days about finding God ("this loving, merciful essence") and how he no longer deserves to be in prison ("I would never, ever take another life"), a line of skeptics can quickly form. David Conn – the prosecutor who ultimately won a conviction against the Menendezes, who were sentenced to life without parole – dismisses such talk as blatant manipulation. "It's only natural that Erik would want to put himself in a better position," says Conn, now a defense attorney. "He's a spoiled kid who got his way all his life."
In the drab visitors' room at California's maximum-security Pleasant Valley State Prison, Menendez, 34, sat down with PEOPLE for his first face-to-face interview since his conviction. He tightly gripped the hand of Tammi, 44, his wife of six years, who, with her 10-year-old daughter Talia, has become Menendez's family on the outside. "I just came to the conclusion that I never wanted to be without Erik," says Tammi, who has written a book about their life together called
They Said We'd Never Make It.
"I know that is hard for people to understand."
The following is a full transcript of the Menendez interview. For the full story, pick up the latest issue of PEOPLE.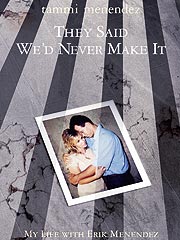 Why have you written this book?
Everything that's ever been written about me has been written by people that don't know me. And much of that has been fabricated. I felt it was time for people to see who I was, to see my true nature. People view me as this dark guy, a killer. Emotionally, that's been very, very hard to deal with. It's always been a struggle for me to realize that I'm the nation's villain. And it's very hard for Tammi.
I've been portrayed as this dark, sinister person. It's sad for me. I'm really not. I'm a good person. I like who I am.
Talia's birth father is deceased, so we say I'm her "earth dad." Someday Talia is going to go to high school, then to college. Who I am is going to follow her. It's important to me to get this side of me out there. Everybody wants to be liked. The only things ever written about me have been from the prosecutor's point of view. I'm trapped there in a moment in time, forever a murderer. I would give my life to change it. Also, the book tells how and why Tammi and I fell in love, why we got married.
Who is this book for?
It's really for the families, wives and children of prisoners. The family of loved ones in prison have a hole inside of them. They are not treated as welcome citizens. It's such a stigma. This book will be attacked. I'm sure Nancy Grace and Howard Stern will have a field day.
What was your first contact with Tammi?
She sent me a letter during my first trial. It's funny, I have a visual memory of seeing her letter. I believe in soul mates. I believe in spirituality, in a religious sense. I believe in God and that nothing happens by chance. I saw Tammi's letter and I felt something. I received thousands of letters, but I set this one aside. I got a feeling. And I wrote her back. Tammi and I continued to correspond. I enjoyed writing to her. It was a slow friendship. It was special to me because it was not associated with the trial and the media. Tammi was someone not in the craziness.
When I got convicted, Tammi and I lost track of each other for a while. Her husband had committed suicide. I had no way of reaching out. I had no one anymore to reach out to.
I was in Folsom Prison in California. By then, it had been years since I'd seen Lyle. They came in the middle of the night and separated us. They took us each away. He went in one van and I went in another. I never saw him again. And that continued to happen. Friends are transferred and you never see them again. There is nothing that you can do.
Finally, I got a letter from Tammi about her husband's suicide, about her tragedy. In some ways, it allowed her to understand my pain. From that moment, we grew closer.